Tech Days East Workshop: Franklin Public Library
We're offering a variety of technology sessions, all in one day!  You, your staff, and trustees are invited to attend.
Date: Tuesday, September 10, 2019
Time: 8:30am - 3:30pm
Location: Franklin Public Library, 9151 W. Loomis Road, Franklin, WI 53132 (map)
This workshop is full of good stuff for you to learn & take back to your library.  Here's the schedule:
8:30 - 9:30am — sign in, and light refreshments
9:30 - 10:30am — choose one of these sessions:

• Coding and Drones.
Learn all the fun and pitfalls of having a series of three increasingly difficult coding and drone classes. Volunteer attendees will participate, and time will be spent on maintenance and other issues. Presenter: David Nimmer (Assistant Director, Cedarburg Public Library).

• Tech Mix – Two Topics in One Hour:
1) Out-of-the-Box Tech Classes for Adults and Seniors.
For every patron who needs help with Windows 10 or Microsoft Word, there's another who's curious about canceling their cable subscription, or buying an Alexa, or using their phone to listen to podcasts. Come and learn about five out-of-the-box tech classes you could offer to your digital newbies. Presenter: Beth Lampp (Patron Services Librarian, Frank L Weyenberg Library, Mequon).
2) DPI Scanning Kits.
A look into scanning kits being provided to participating library systems by the Department of Public Instruction (DPI) through a WISElearn grant. We will demonstrate the equipment in the kits and give an overview of how they can be used for your local history digitization projects. Presenters: Craig Ellefson (IT Support Specialist, South Central Library System, Madison) and Tamara Ramski (Digitization Specialist, South Central Library System, Madison).

• Family Memory Digitization Technology.
The North Shore Library has introduced three different digitization technologies: VHS tape conversion; film, slide, and photo conversion; and cassette tape conversion. With these easy to use devices we are able to provide our patrons with free digitization services. These services are feasible, affordable, and easy to integrate into library services and programs. Key takeaways: How we started these services and related training programs. How to integrate digital preservation technology in your library. The best practices for integrating these services in your library. Presenter: Sam Molzahn (Adult Services Librarian, North Shore Library, Glendale).
10:45 - 11:45am — choose one of these sessions:
•
From Virtual To Reality.
Find out how to use VR and Google Expeditions in both in-house and outreach programming. We will review what concerns and issues to be aware of, as well as tips to make "trips" easy going. Attendees will have a chance to play with and go on an expedition. Attendees will leave the program with an idea of cost and investment, introduction of use, and program ideas. Presenters: Rebbecca Barry (Assistant Director, Chilton Public Library) and Glenny Whitcomb (Director, Chilton Public Library).
•
Intro to Computational Thinking & Connected Learning in Youth Services.
You've heard having coding, STEM, and maker programs are important, but has anyone told you why? Computational Thinking (CT) is an important 21st century skill and you might already be using it in your library services and programs without realizing it. Learn how you can use Connected Learning to intentionally create programs that kids and teens want that just happens to include CT. Presenters: Laurie Freund (Coordinator of Library Development, Bridges Library System, Waukesha) and Angela Meyers (Coordinator of Youth & Inclusive Services, Bridges Library System, Waukesha).
[ youth services interest ]
•
Digital Archiving Made Simple.
Got local photos, yearbooks, newspapers, oral histories or videos? Make your local digital archive with no cost easy to use software. Each attendee will get free software to take back to their library. Presenters: John Sarnowski (Director, ResCarta Foundation, Milwaukee) and Marcia Sarnowski (Retired Public Library Consultant, Winding Rivers Library System, Milwaukee)
• Tech Mix – Two Topics in One Hour:
1)
Making it with the Cricut Maker.
Join Claire for a demonstration of Cricut's new model. Learn how this die-cutting machine can help you and your patrons make what they want. Presenter: Claire Tidwell (Makerspace Librarian, Irvin L Young Memorial Library, Whitewater).
2)
The Future of Public Library System Technology.
Public library systems in Wisconsin have been collaborating on technology infrastructure, with an end goal of offering uniform network and PC support to Wisconsin public libraries. This is an opportunity to hear what this may mean for your public library. Presenters: Vicki Teal Lovely (Technology Services Coordinator South Central Library System, Madison) and Dan Jacobson (Technology Solutions Architect, South Central Library System, Madison).
12:00 - 12:45pm — lunch. Options: pay $12 for a catered taco buffet and brownies + soda & water, or you can bring your own and store it in the fridge.
1 - 3:30pm —
Extending the Third Place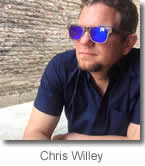 Should public libraries put any energy into Extended Reality or Artificial Intelligence (or other technologies) right now?
Are there core skills and characteristics that citizens of the 21st century need?
Join Chris Willey as he shares ideas on these questions, and moderates a lively discussion that includes your perspective on the future of technology. The purpose of this presentation is about "sharing focus" on our future, together. Additionally, Willey will share the mission, methods, and recent outcomes of the Immersive Media Lab at the University of Wisconsin–Milwaukee so that you may adopt any/all for your own libraries and communities. He will share what it means to be antidisciplinary, the role of creativity in a "3rd Space" learning environment, and why this is important for our shared technological trajectory.
About our guest presenter: Chris Willey is the Director of the Immersive Media Lab at the University of Wisconsin-Milwaukee. The lab is an antidisciplinary collaborative that conducts research within emerging technologies. The research aligns the spheres of science, culture, and technology through the lens of creativity. He's a Lecturer at UW-Milwaukee where he is tasked to present all freshmen Peck School of the Arts, Art and Design students the connections between culture, technology, and critical theory. Chris is also the coordinator of an international program with the Hubei University of Technology in Wuhan, China, and is a published author, curator, and internationally-exhibited artist.
Continuing education contact hours for the full day:
- Technology-related contact hours: 6
- Total contact hours: 6
There is no charge to attend any of the Tech Days East workshops, thanks to sponsorship by the Northeastern Wisconsin CE Partnership (NEWI) — Winnefox Library System, Outagamie-Waupaca Library System, Manitowoc-Calumet Library System, Nicolet Federated Library System — South Central Library System, the Southeastern Wisconsin (SEWI) library systems — Arrowhead Library System, Bridges Library System, Kenosha County Library System, Lakeshores Library System, Milwaukee County Federated Library System, Monarch Library System — and the Wisconsin Department of Public Instruction (DPI) Public Library Development Team, with funding support from the Institute of Museum and Library Services.
Register using the form below: