Tech Days 2022 Presenters
Richard Byrne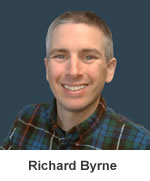 Richard Byrne is a digital learning consultant whose work is focused on helping teachers and school librarians use technology to better their students' learning experiences. Over the course of his twenty-year career in education he has taught language arts, social studies, and computer science. He is best known for developing the award-winning websites Free Technology for Teachers and Practical Ed Tech. Richard's print work includes columns for School Library Journal, contributions to What School Leaders Need to Know About Digital Technologies and Social Media, and columns for Teacher Librarian. Richard has received awards and recognitions for his work from many organizations including the California State University's chancellor's office. He's a five time winner of the Edublogs Award for Best Resource Sharing Blog. And Tech & Learning Magazine called Richard one of their "people to watch" for the future of educational technology. He has worked with schools and spoken at conferences on six continents and would gladly speak in Antarctica, too. Richard lives in Maine with his family, an aloof cat, and two loyal dogs.
Richard's session:
Doug Crane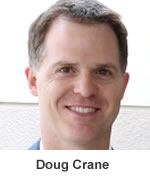 Doug Crane has been a librarian for over twenty-one years and has been helping librarians and others get their inboxes down to zero since 2012! He began his career with the Palm Beach County Library System as a children's librarian in 1998 and soon moved his way up the organization serving as the Electronic Resources Coordinator, Branch Manager, and the Director of Branch Services. He was appointed Library Director in 2014, and in 2021 the Florida Library Association recognized him as Florida Librarian of the Year. He authors the Efficient Librarian: Exploring the Intersection of Efficiency and Librarianship blog. In his spare time, he admires his collection of Doctor Who sonic screwdrivers, and relaxes at home with his wife, daughter, dog and cat.
Doug's session:
Brian Pichman
Brian Pichman is the Director of Strategic Innovation for the Evolve Project, a collaborative platform dedicated to changing the way people see libraries, and believes that libraries should be creating stories rather than just providing them. He is a presenter, a collaborator, an innovator, and a technology expert/trend spotter. Brian works closely with a large number of libraries located across the country to handle their essential technology needs through activities such as consulting, strategy development, and space redesign planning to maximize library interactivity, engagement, and collaboration.
Brian's session:
Laura Solomon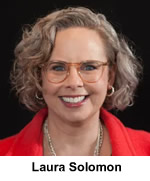 Laura Solomon, MCIW, MLS is the Library Services Manager for the Ohio Public Library Information Network and a W3C-certified front-end web developer. She has been doing web development and design for more than twenty years, in both public libraries and as an independent consultant. She specializes in developing with Drupal. She is a 2010 Library Journal Mover & Shaker. She's written three books about social media and content marketing, specifically for libraries, and speaks nationally on both these and technology-related topics. As a former children's librarian, she enjoys bringing the "fun of technology" to audiences and in giving libraries the tools they need to better serve the virtual customer. Laura blogs at What Does This Mean to Me, Laura?.
Laura's session: